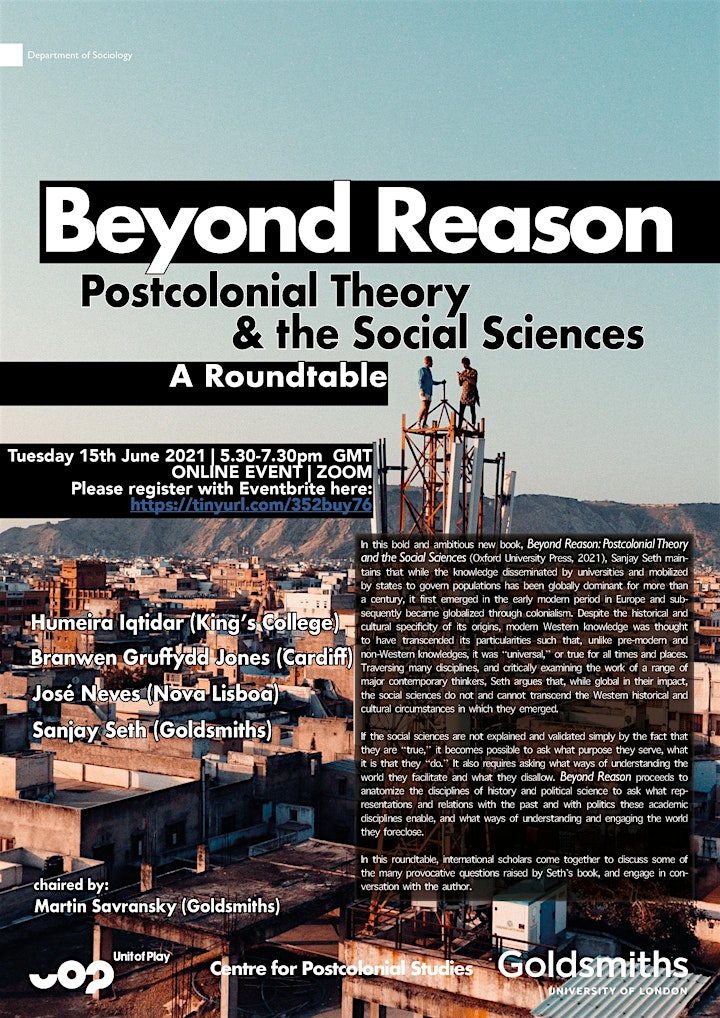 Beyond Reason: Postcolonial Theory and the Social Sciences
A Roundtable
Tue 15th June, 5.30-7.30pm GMT
Zoom Event. All Welcome. Please register here: https://www.eventbrite.com/e/beyond-reason-postcolonial-theory-and-the-social-sciences-tickets-153684363067
In this bold and ambitious new book, Beyond Reason: Postcolonial Theory and the Social Sciences (Oxford University Press, 2021), Sanjay Seth maintains that while the knowledge disseminated by universities and mobilized by states to govern populations has been globally dominant for more than a century, it first emerged in the early modern period in Europe and subsequently became globalized through colonialism. Despite the historical and cultural specificity of its origins, modern Western knowledge was thought to have transcended its particularities such that, unlike pre-modern and non-Western knowledges, it was "universal," or true for all times and places. Traversing many disciplines, and critically examining the work of a range of major contemporary thinkers, Seth argues that, while global in their impact, the social sciences do not and cannot transcend the Western historical and cultural circumstances in which they emerged.
If the social sciences are not explained and validated simply by the fact that they are "true," it becomes possible to ask what purpose they serve, what it is that they "do." It also requires asking what ways of understanding the world they facilitate and what they disallow. Beyond Reason proceeds to anatomize the disciplines of history and political science to ask what representations and relations with the past and with politics these academic disciplines enable, and what ways of understanding and engaging the world they foreclose.
In this roundtable, international scholars come together to discuss some of the many provocative questions raised by Seth's book, and engage in conversation with the author.
Discussants:
Humeira Iqtidar | Department of Political Economy, King's College (London)
Branwen Gruffydd Jones | School of Law and Politics, Cardiff University
José Manuel Viegas Neves | Department of History, Universidade Nova de Lisboa
Sanjay Seth | Department of Politics & International Relations, Goldsmiths, University of London
chaired by
Martin Savransky | Department of Sociology, Goldsmiths, University of London